Electronic Sheep Launch Striking New Collection "Enjoy Yourself"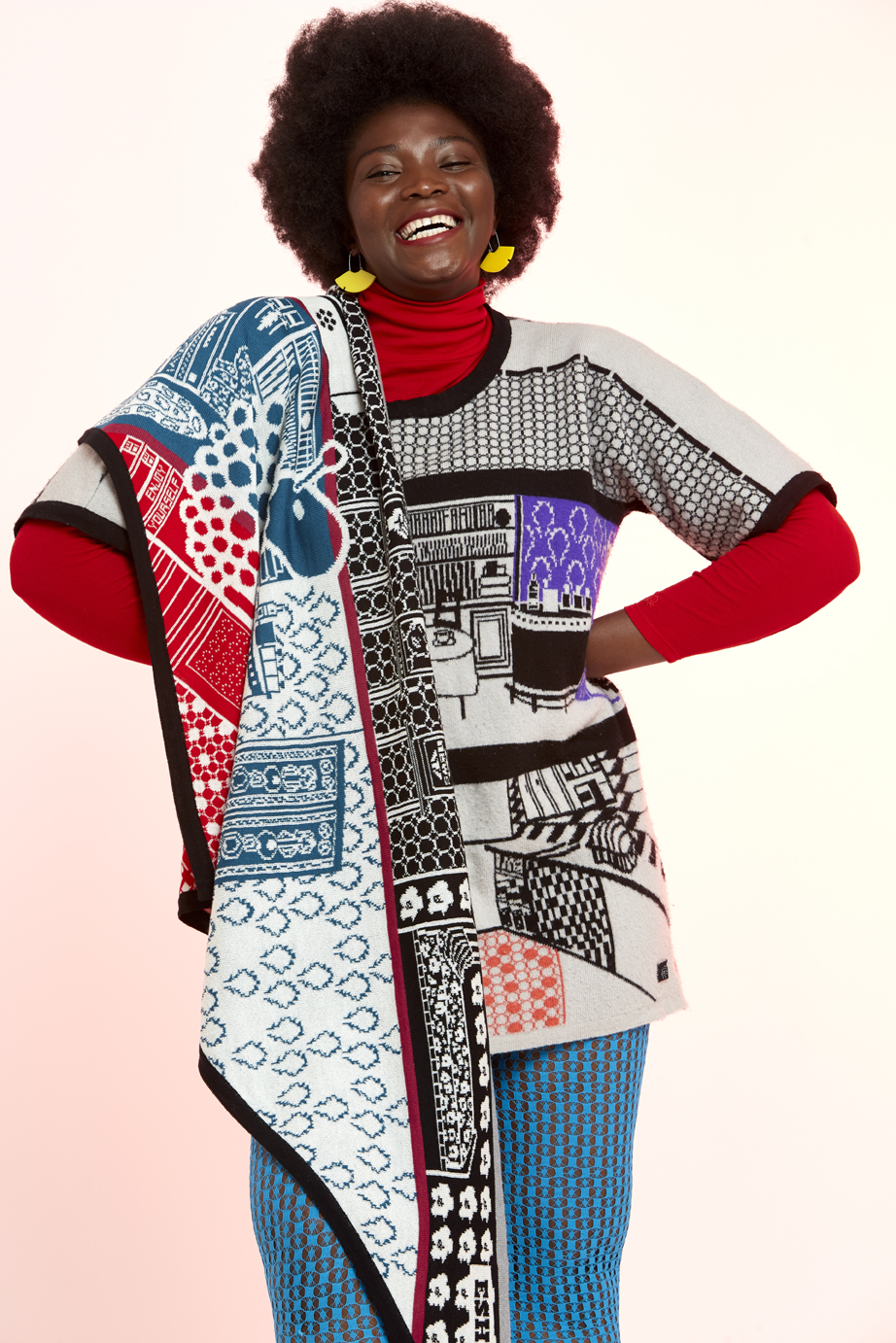 AVAILABLE NOW FROM ELECTRONICSHEEP.COM AND SELECT NATIONWIDE STOCKISTS
Multi award winning Electronic Sheep – most recently winners of an 'IDI Award 2020' in the Fashion Accessories Section – have just launched their brand new collection titled "Enjoy Yourself", which is available now from Electronicsheep.com and select nationwide stockists. The collection celebrates the meaningful stories from 2020 and features lots of colour to brighten your day – each stunning knit tells its own unique story and is a stand alone piece of art.
Make a statement with this striking new collection – featuring the "Enjoy Yourself" oversized triangle scarf, the "Rock N Roll Bed" triangle scarf, the "Holiday" triangle scarf, the "A Galloping Horse Wouldn't See It" triangle scarf and the 'Bella Vista – Portrait of Ludwina' oversized triangle scarf.
The "Enjoy Yourself" collection is composed of 16 intricately knitted scarves that are all hand drawn and knit in 100% merino wool. Designed with the backdrop of Covid 19 and all that this year has entailed, the collection is a celebration of life and death and all the lessons that we have learnt over the past few months. In some ways it also commemorates 2020 and the unforgettable year that it has been so far – a year that has made us all appreciate the important and simple things in life. "Enjoy Yourself" is something that Helen's mother always said to her family, even if they were just going to the local shops, and that sentiment is captured beautifully in the pieces.
Internationally-renowned designer label Electronic Sheep was established in 1998 by NCAD alumni Brenda Aherne and Helen Delany. The label's unique, signature style comprises illustrative and typographic jacquards based on narrative storylines drawing on the designers' personal lives and professional practices. Electronic Sheep are keen collaborators, regularly working with designers, historians and activists, often to the benefit of social initiatives and charitable agencies.
Childhood friends Brenda Aherne and Helen Delany graduated in 1992 from NCAD in Fashion and Visual Communication respectively. Individually, the designers enjoyed prestigious industry experience in London, New York, Rome and Munich before joining forces in 1998. Initially funded by a start-up Guinness award 'The Hudson Blue' for innovation in knitwear technology, Electronic Sheep has developed into a label specialising in unisex graphic knits. The product of a heightened aesthetic sensibility, filtered through the complementary disciplines of fashion and graphic design, their signature style has appeared in i-D, Vogue, Grazia, Elle, Kaltblut and GQ amongst many more international style bibles. Based in London and Dublin, they have regularly exhibited at London Fashion Week since 2011, and at Paris Fashion Week in 2018, and are currently distributing to independent sellers throughout the UK, Europe and Japan.
"Enjoy Yourself" the brand new collection from Electronic Sheep is available now from Electronicsheep.com and select nationwide stockists.
For more Information:
EDITOR NOTES
"Enjoy Yourself" Collection Details:
"Enjoy Yourself" Scarf
This is something Helen's Mother always said to her family, even if they were just going to the shops. It's something Eileen always did and encouraged us to do. This scarf is really about lockdown and how we all found ways to enjoy ourselves at home. It made us appreciate how lucky we are to have happy homes and enjoy little things like spending time with family, having a drink, food even having a bath became an occasion. It depicts 3 floors of a house – an interior, full of little details. Sofas, wallpaper, drinks cabinet, it even has mini TV screens that depict the background to our 2020 lives; with breaking news (covid), activism (BLM positive change) and a 90s music video for nostalgic reasons.
"Rock n Roll Bed" Scarf
The 'Rock n Roll Bed' scarf is about all the stuff that we have on our beds. We like making our bedrooms into our own little world/space/studio (especially since lockdown but also, like many, something we did as teenager friends). A floral bedspread – imagining it as a magic carpet with everything you could possibly need on it. Laptop, headphones, records, electric guitar, lipstick, jewellery, fruit, a book and an Electronic Sheep 'Red Eyed Cats'* scarf. We love vintage style interiors and this 70s style wallpaper… of a tropical island.
*'Red Eyed Cats' scarf has several musical references on it and is named after a song by Irish band 'Pet Lamb'.
"Bella Vista – Portrait of Ludwina" Scarf
This is a portrait of Helen's Mother 'Eileen Ludwina Delany' who very sadly passed away in April. Eileen was very glamorous, fun and a big influence on us as designers. She is pictured sitting in 'the good room' with all of her collectables around her. Eileen was a window dresser in Clery's from the 50s-90s and her love of embellishment extended to her beautiful house which she called 'Bella Vista'. She travelled the world and had a really eclectic collection of ornaments that fascinated us when we were kids. It is a beautiful portrait of Eileen as a young woman, drawn from a picture she loved – it epitomises her love of fashion, travel, fun and life itself.
"Holiday" Scarf
The 'Holiday' scarf is inspired by a family holiday vase from the 50s (belonging to Helen's mother and given to her by her sister in law Auntie Baby). The scarf was also motivated by dreams of holidays during lockdown. It depicts a woman enjoying holidays to the full! The background is made up of Electronic Sheep holiday snaps and postcards.
"A Galloping Horse Wouldn't See It" Scarf
'A Galloping Horse wouldn't see it' – another Eileenism. It is about not sweating the small stuff. It is also from our archive – reworked in new colours. We love the girl on horse, relaxing in the wild.
STOCKISTS
IRELAND:
ENGLAND:
EUROPE:
USA:
CANADA:
JAPAN: