Copper Face Jacks: The Musical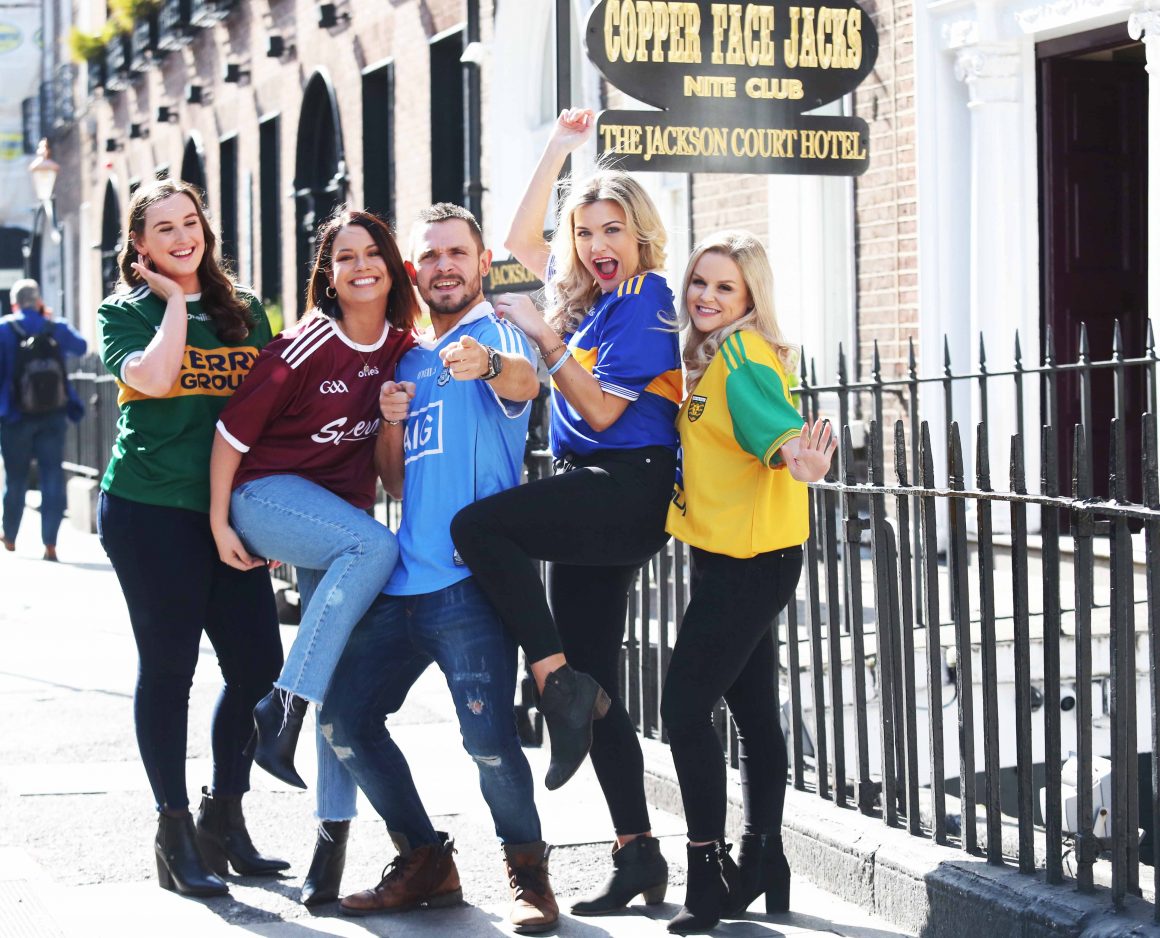 WHOOPS WE'RE BACK… AT COPPER FACE JACKS THIS SUMMER!
SUMMER SENSATION COPPER FACE JACKS: THE MUSICAL IS BACK FOR A THIRD TIME AT THE OLYMPIA THEATRE DUE TO PHENOMENAL DEMAND
JOHNNY WARD RETURNS AS GINO WILDES
TICKETS ON SALE NOW
Whoops We're Back….at Copper Face Jacks next summer!
Paul Howard's smash hit musical, Copper Face Jacks: The Musical is back at the Olympia Theatre in 2020 following triumphant summer runs in 2018 and 2019.
Packed full of craic, huge laughs, Culchies, Dubs, lots of shifting and an incredible cast, Copper Face Jacks: The Musical, is set to be the summer sensation for a third time! Opening at the Olympia Theatre for a strictly limited run from 10 June until 27 June 2020, tickets are priced from €26 (including booking fee and €1 restoration levy) and are on sale now.
Standing ovations, rave reviews, wall-to-wall belly laughs and laugh-out-loud shenanigans from start to finish, Copper Face Jacks The Musical is back for more shows at last!
Johnny Ward is back as Gino Wildes and is reunited with and Michele McGrath (The Tudors, Damo and Ivor) as Gretchen Ackerman, Rachel O'Connell (The Young Offenders) as Lucelita Ni Choncubhair, Kelly Marie Ni Cheallaigh (My Romantic History) as Therese McQuill, Shane Fallon as Anto Moran and Daithi O'Donnell (Ros Na Rún) as Jeremiah.
From the creator of Ross O'Carroll Kelly – Paul Howard, Copper Face Jacks: The Musical, is a love story set on the eve of a Dublin v Kerry All Ireland Final, when a sweet Kerry girl ends up falling head over her flat-shoes for the Captain of the Dublin football team – Gino Wildes. Can love conquer all as these two young sweethearts face massive cultural and linguistic hurdles on their road to happiness/Croker?
Copper Face Jacks: The Musical is produced by Kite Entertainment and Verdant Productions in association with the Olympia Theatre. Original Concept Created by Darren Smith with Paul Howard.
2019 Reviews
✭✭✭✭ Surprisingly sweet-natured musical will have you rolling in the aisles' – Dublin Live
'An absolute hit' – Joe.ie
✭✭✭✭✭"..it has everything Coppers itself has- drama, laughter, some serious tunes, and even a few Mickey Finns! – The Irish Sun
"If you've ever stepped foot in the door of the infamous nightclub, you will see that this musical is so accurate it's kind of scary, but in the best way." – Her.ie
2018 Reviews
✭✭✭✭ 'A belter of a show…a joy to behold' – Irish Daily Mail
'One of the hits of the summer' – Sunday Independent
'Sheer Hilarity' – The Irish Times
'Top Class' – Irish Mail On Sunday
'Brilliantly acted and hilariously played' – Irish Mirror
'Absolutely hilarious!…just brilliant' – Newstalk
'The entire Olympia up and on its feet dancing and cheering by the end. Highly recommended' – Joe.ie
'You will have pains from laughing' – Evoke.ie
'An Unadulterated Joy' – The Arts Review
Booking/Listings Information
Venue: Olympia Theatre, Dublin
Date: 10th – 27th June 2020
Tickets: From €26 including booking free and €1 restoration levy.
Online bookings: Ticketmaster.ie
In Person Bookings: Ticketmaster outlets nationwide or the Olympia Theatre Box Office.
Phone Bookings: 0818 719 330 (Republic Ireland) | 0844 847 2455 (UK and Northern Ireland) | + 353 1456 9569 (International Customers)
For Groups of 10 + Tel: +353 (1) 646 8687
Follow Us!
https://twitter.com/coppersmusical
https://www
facebook.com/coppersmusical/
https://www.instagram.com/coppersmusical/
#CoppersMusical
#missionwork
Arts PR // Cultural PR // Culture PR // Theatre PR // Visual Arts PR // Publicity // Entertainment PR // Opera PR // Ballet PR // Media Relations //