Dublin Vinyl Launches The Record Hub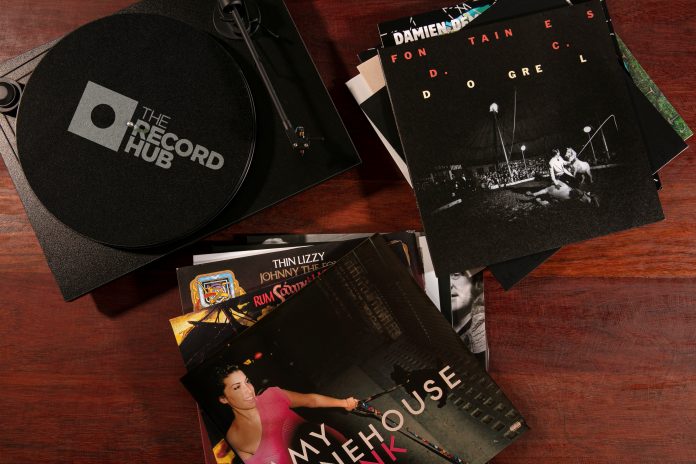 NEW ONLINE RECORD STORE IS THE GO-TO PLACE FOR ALL THINGS VINYL FOR MUSIC LOVERS EVERYWHERE
Dublin Vinyl – Ireland's state-of-the-art and only record pressing plant – have announced the launch of The Record Hub, an online record store designed to help music lovers new and old discover the joy of vinyl. 
A timely move, the launch of The Record Hub sees the vinyl revival in full rotation, with records set to outsell CDs for the first time since 1986 and global sales of vinyl the highest they've been in 30 years. In Ireland alone, the past few years alone have seen huge growth, with vinyl record sales worth just €500,000 in 2014 and this year they are on target to hit over €5 million.
The Record Hub is the essential vinyl-only online store, promising to be 'everyone's local record shop' and will sell everything from catalogue classics to forgotten gems, new releases, exclusives and accessories. Free shipping is offered on all orders over €35. Through its website, The Record Hub will offer advice and guidance on everything from album reviews to setting up a turntable and choosing the best speakers.
Speaking about launching The Record Hub, Dublin Vinyl Managing Director Hugh Scully said:
"Within a couple of months of launching our pressing plant, we experienced significant demand from vinyl fans to buy albums directly from the plant", says co-founder and CEO, Hugh Scully.  "In response to this, we expanded our label partnerships and began shipping directly to customers.  With the ability to deliver across Ireland opening a retail outlet was a logical next step, to supply music lovers with records pressed at Dublin Vinyl and from our favourite labels around the world." 
The Record Hub know the power of a good record, but also that finding the time to seek out the latest gem can be time-consuming. Over the coming months, they will launch their solution to this, a range of guest curators and content creators who will delve through the different genres to bring you the best of what is on offer, making buying records as easy and accessible as streaming.
For further information please visit https://therecordhub.com.
Editors Notes
Dublin Vinyl:
Dublin Vinyl is a state-of-the-art record pressing plant based in Ireland and servicing the world. They're proud to be manufacturing some of the best quality vinyl records on the international market, for major and independent labels and directly with artists.   
Their dedicated team each have over 15 years experience working right across the music industry, in areas including vinyl manufacture, production, management, labels, artist relations, performance, music retail and distribution. With a global bottleneck in vinyl production, Dublin Vinyl provides a much needed, reliable solution to one of the biggest problems in today's music industry.
#missionwork
Brand PR // Brand Launch // Music PR // Consumer PR // Publicity // Media Relation