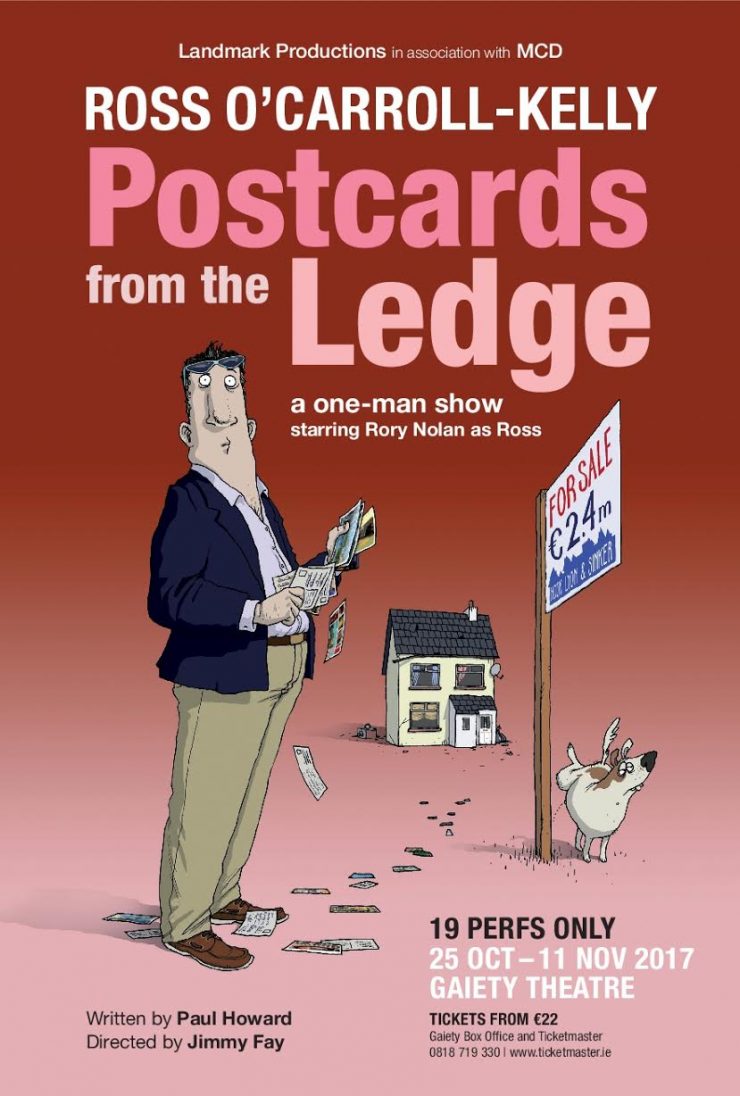 ROSS O'CARROLL-KELLY | POSTCARDS FROM THE LEDGE
by Paul Howard
a one-man show Starring Rory Nolan as Ross
FOR 19 PERFORMANCES ONLY AT THE GAIETY THEATRE
FROM 25 Oct – 11 Nov 2017
Tickets from €22 on sale now
Ross O'Carroll-Kelly takes his rightful place in the spotlight … starring in his own one-man show on the stage of the Gaiety Theatre.
The year is 2029 and Ireland is in the midst of an economic boom. Ross O'Carroll-Kelly is about to turn 50 – and life could not be better for him. His wife, Sorcha, is the Taoiseach. His triplet boys are the backbone of the Castlerock College Junior Cup team. And he still does alright with the ladies.
As the Managing Director of Hook, Lyon and Sinker estate agents, he spends most of the day with his feet up. But when a client rings and asks someone to put a valuation on 22 Glenageary Glen, a semi-detached house in Sallynoggin, Ross decides to do the job himself. The reason is that he recognizes the address as his childhood home.
As he stands in the doorway of the run-down, council-built house, the sediment of old memories is stirred up. And he takes us on a journey of remembrance, through happy times and sad times, laughter and tears, until he realizes that the job of putting a price on the house – and its treasure of memories – is impossible.
Because it's priceless.
Directed by Irish Times Theatre Award winner Jimmy Fay, the show stars the award-winning actor Rory Nolan, who has played Ross since his stage incarnation over the past decade.
Postcards from the Ledge is the fourth Ross O'Carroll-Kelly stage play, following the hugely successful trilogy of Breaking Dad (which played at the Gaiety to sell-out audiences an unprecedented three times in 2014, 2015 and 2016), Between Foxrock and a Hard Place (2010-2011) and The Last Days of the Celtic Tiger – famously written before the crash, in 2007.
Paul Howard's character Ross O'Carroll-Kelly started life in a newspaper column almost twenty years ago. He has since become the star of a critically acclaimed series of books that satirised Ireland during the years of its economic boom and bust and have sold well over one million copies in Ireland alone. He was named Irish Newspaper Columnist of the Year in 2013 for his weekly column in the Irish Times, one of the most widely read in the newspaper, and has received a record three Irish Book Awards.
Announcing the production, Paul Howard said:
'I can't believe it's ten years since we entered the rehearsal room for the very first Ross O'Carroll-Kelly play, The Last Days of the Celtic Tiger. Being involved with Anne Clarke and Landmark Productions in the process of bringing Ross to the stage has been one of the greatest joys of my career as a writer.
I'm really looking forward to working again with Rory Nolan, one of the finest actors of his generation, who first breathed life into the character all those years ago. And I'm delighted that we'll be working with Jimmy Fay, the extraordinarily talented director, who has lent his magic touch to all three Ross plays so far.
'I'm especially excited that this will be a one-man play and that the Rossmeister General will have the audience all to himself. He has quite a few things to get off his chest!'
Ross O'Carroll-Kelly himself declared:
'Having been consistently overlooked by Warren Gatland, first as coach of Ireland, and still as coach of the Lions, it's nice to be finally given a stage big enough for my talents. And this time I'm going to be the centre of attention!'
Rory Nolan said:
'I'm utterly delighted to be back with both Ross and Paul, two of our finest men who've both been toying with my head and entertaining my life for the last ten years.  I can't wait for everyone to see it.'
Booking Information: The Gaiety Theatre, Dublin  |   Tickets: €22 – €55 (Including restoration fee)
24Hr Gaiety Theatre Booking Tel: 0818 719 388, Group Bookings: + 353 1 6486 8687
www.gaietytheatre.ie | www.ticketmaster.ie
www.postcardsfromtheledge.ie
https://www.facebook.com/RossOCK   |     https://twitter.com/RossOCK
Editors Notes:
– Paul Howard is a multi-award-winning journalist, author, playwright and comedy writer. He is the author of three hit Ross O'Carroll-Kelly plays, so his new play Postcards from the Ledge will be a must-see for all fans! One of Ireland's most popular authors, he has written 17 Ross novels, the latest of which, Operation Trumpsformation, will be published in September 2017. He has been described by the Irish Times as "Ireland's pre-eminent satirist" and by the Irish Independent as "one of the world's funniest writers. 
– Rory Nolan was recently awarded Best Supporting Actor at the 2017 Irish Times Theatre Awards for his role as Pozzo in the Druid production of Waiting for Godot.  He is a member of the Druid Company ensemble and has also appeared as Falstaff in DruidShakespeare, DruidMurphy, and The Colleen Bawn for the company.
Rory graduated from the Gaiety School of Acting in 2003, making his post-graduate debut in The Drunkard a new adaptation by Tom Murphy, directed by Lynne Parker for B*spoke Theatre Company and the Galway International Arts Festival. Since then Rory has appeared in Chekhov's First Play (Dead Centre); as Ross O'Carroll Kelly in The Last Days of the Celtic Tiger, Between Foxrock and a Hard Place and Breaking Dad at the Olympia and Gaiety Theatres (Landmark Productions); Northern Star, The Importance of Being Earnest opposite Stockard Channing, several productions of Improbable Frequency, The Taming of the Shrew and Peer Gynt (Rough Magic); Jacques Brel is Alive and Well and Living in Paris, Death of a Salesman, The Importance of Being Earnest (Gate Theatre); Roddy Doyle's adaptation of The Playboy of the Western World, Macbeth, Big Love, Comedy of Errors, The Last Days of a Reluctant Tyrant, The Rivals, Arrah na Pogue, Translations and The Government Inspector (Irish Times Irish Theatre Awards Best Supporting Actor nomination), Hevenly Bodies (Abbey Theatre); King Lear (Second Age) and The Wiremen (Gaiety Theatre).
Screen credits include: A Thousand Times Goodnight with Juliette Binoche; FitzJohn in the feature film WILD; the role of Charlie McCreevy in Charlie, a three part mini-series produced by Touchpaper Films/RTE, and Max Clayton in Fair City (RTE). He recently completed filming a role in Acceptable Risk a six part mini-series for RTE staring Elaine Cassidy which is due for broadcast later this year.
– Landmark Productions is one of Ireland's leading theatre producers.  The company is led by Anne Clarke, who is the recipient of the 2015 Special Tribute Award at the Irish Times Irish Theatre Awards. Each year, the Special Tribute Award is given to an individual who has made 'a vibrant and outstanding contribution to Irish theatre'.
The company's recent work includes Enda Walsh's The Walworth Farce, starring Brendan Gleeson, Brian Gleeson and Domhnall Gleeson, together with the multi award-winning musical Once, which returns to the Olympia for a third successive summer from 30th June 2017. Landmark has commissioned and produced all three of Paul Howard's previous plays: Breaking Dad, Between Foxrock and a Hard Place and The Last Days of the Celtic Tiger.
Landmark also received the Judges' Special Award in the Irish Times Irish Theatre Awards for 2011, in recognition of its 'sustained excellence in programming and for developing imaginative partnerships to bring quality theatre to the Irish and international stage'.